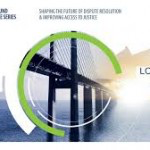 In a word, efficiency. A more efficient way of getting disputes resolved effectively, while minimising waste, including time and money.
Yes of course parties want justice and resolution. But, according to last week's Global Pound Conference Report, they also want an efficient way of getting it, and more thought and engagement needs to be given to bringing appropriate resolution in acceptable timeframes and at realistic costs. That means clients and advisors being clearer, not just about what they want to achieve, but about the best way of getting 'the other side' to give them what they want.
The report recommends looking at ways of resolving disputes that combine adjudicative and non-adjudicative methods, and being more flexible and collaborative than has traditionally been the case. Yes, I know. Sharp intake of breath. But not for a new generation of lawyers who have grown up in an information sharing culture.
There was near universal recognition from contributors that parties need to be encouraged to consider processes like mediation before they commence adjudicative proceedings and that non-adjudicative processes, like mediation or conciliation, can work effectively in combination with litigation or arbitration. And before you say it, this new 'universal wisdom' wasn't just from self-interested mediators, but also from parties and end-users, in-house counsel, private practice lawyers, judges and arbitrators.
Reading the report, what resonated for me is that if more thought needs to be given to designing appropriate resolution processes and encouraging greater collaboration, that's where experienced neutrals can really assist by making the process easier, more effective and more efficient. If you would like to talk to me more about this either for a particular dispute, or generally, please call me on +44 (0) 207 286 0272.
If you would like to read the report in full: here's a link: https://www.herbertsmithfreehills.com/latest-thinking/global-pound-conference-series-redefining-dispute-resolution
The report also concludes that while disruptors like technology and globalisation have changed the business landscape beyond recognition, dispute resolution processes haven't yet caught up. Coincidentally, I have been invited this week by the Law Society Gazette to contribute to a round-table discussion about how technology can drive dispute resolution efficiencies and I will be blogging about this shortly.